Why Bitcoin is Going Bananas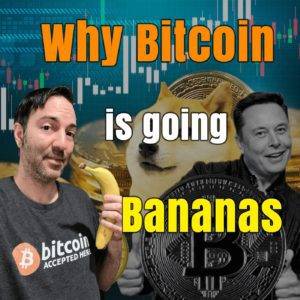 In this episode I talk about the recent surge in the price of Bitcoin. The news reported that Tesla purchased $1.5 billion worth of Bitcoin and many investment companies have been buying hundreds of millions and even billions of dollars worth of Bitcoin. Every day people have FOMO (fear of missing out) and have been driving the price up. What's all the fuss about? I talk about some theories and also some things to watch out for in this episode.
You can listen to this podcast episode here:
or watch the video here:
Here's the transcript from this podcast episode, please excuse any typos!
Today I'm going to talk about the hottest topic lately, which is Bitcoin. It's a cryptocurrency that is soaring very high as you can see, if you check online you'll see it's around $52,000, as of this episode. And it just doesn't seem like it's slowing down. A lot of people are asking me, Jason should I be buying Bitcoin. And I say, well, it's always worth having some but you want to be careful because. Just a couple months ago it was only $25,000, it has doubled in just a couple months.
And I want to give you guys a couple of reasons why it's been getting so valuable, but people ask me like what the heck is it in the first place. Easiest way to tell you what this is in other episodes. A digital currency is something that is transactional so you can see the public ledger which is like a database or a spreadsheet that shows you the transactions that people make whether it's buying, selling, trading or sending Bitcoin from one person to another wallet. So it's really just money. You can pay for things with it, you can send it to your bank account, you can buy some on paypal. Think of it kind of almost like credit card payments, you're using these virtual numbers virtual credit numbers.
But besides the fact that you can do a search online and figure out why it is $52,000 today. And where is it headed, which is what a lot of people ask me, one of the first reasons why Bitcoin started to really jump. If you look online and you do a search for Bitcoin news, you'll see that these investment companies pay scale and a lot of other square and investment hedge funds. Sailor is a big one Michael sailor of Microsoft strategy. He's the CEO, they've been pumping in hundreds of millions of dollars of money into bitcoin which is causing the price to really go up a lot. And not only that but Elon Musk has been tweeting about Dogecoin and Bitcoin on his Twitter for months which is causing a hysteria of people to not only make memes about Dogecoin and buy Dogecoin on a million exchanges, but it's causing it to surge to ridiculous. Prices I mean Dogecoin was always less than a penny for years, and all of a sudden they went to like 670 cents, it was insane how quickly it went up, and of course a lot of people FOMO or fear of missing out jumped into Dogecoin to try to capitalize on the means kind of like the Wall Street best people did with GameSpot towards cryptocurrency is much different. It's not regulated so it's very volatile and as quickly as Dogecoin went up. It also went down, although it has stabilized, it's been somewhere around the 100 Satoshi range for a while now, which means people are not selling they're holding on to their coins and hoping for another liftoff now bitcoins another story. Bitcoin is the first cryptocurrency out of maybe 1000 that's available out there. And just a couple years ago it was only a couple $1,000, you know, in 2017 and 18, when there was the first kind of market hype of cryptocurrency and everybody jumped in and crashed. As you saw in 2019, it started to recover in 2020. It also recovered and now it's just fine. So, let's talk about the investment companies that have been pumping in hundreds of billions of dollars, including Elon Musk who recently spent $1.5 billion worth of Tesla to purchase Bitcoin. Now that's a huge investment and when that happened when the news broke that the SEC filing was live Bitcoin went from 38,000 to $45,000 overnight it liquidated hundreds of billions of dollars of shorts people who were betting against Bitcoin going up they were saying was gonna go down so they shorted it on the market margin trading is very hard to do and I always advise people not to do it it's very risky.
I always tell people to just buy some Bitcoin and use a Coinbase account, starting to sign up for Coinbase and get a wallet. It's really easy to do. Buy some Bitcoin. You don't have to buy a lot, you can buy $100 worth, you can buy $500 worth, buy whatever you're comfortable with, and then guess what, forget that you have it, leave it in there. Just forget that you own it, years from now will be worth so much more money.
I tell some of my friends who don't have investment. They don't have retirement accounts, I say, Look, why don't you start putting in a little bit of money every month into your Coinbase Wallet for Bitcoin, or aetherium, it could be any any coins that you like. That could be Bitcoin or theorem, it could be Litecoin, it could be Dogecoin, it could be any coin that you find that has a good value to it because it has a product attached to the coin. It has a company and a team of developers who are building some sort of platform. There's a lot of good ones out there. One of my favorites is SC prime or the coin is Sep, and it's a distributed cloud storage network. So it's one of my favorites. You'll hear me talk about it in a lot of my episodes. But so the point is treat it like an investment account put in, maybe 100 bucks a week or 200 bucks a month or whatever you can afford to lose. Leave it in Coinbase, buy bitcoin, and maybe five years from now or 10 years from now, you might have 1000s of dollars. Let's say you buy a whole Bitcoin for $50,000. I'm not advising it, it's not financial advice. Definitely don't do that unless you can throw away $50,000, if it, for some reason, goes all the way down to $10,000 tomorrow and you lose 40,000, which could happen you'd never know right bitcoins are very volatile. And that's the only one I mentioned, you really never know where it's going to go.
Or we can be at $5,000. Tomorrow it could be at $100,000. It's really hard to predict. So anybody who tells you where it's going. They're just predicting, they're just guessing, they're not really giving you a real number. So back to my point. Let's say you buy Bitcoin for $52,000 today. That's what it is, that's what it's worth today, and you forget about it. You know it's in your Coinbase wallet you know you have it but you just, you don't look at the price every day you don't look at the news anymore you stop looking at it. 10 years from now let's just say Bitcoin is now at a million dollars a coin, which is possible in the future you never know, nobody can predict right. We just made a million bucks or $50,000 investment. Let's say it goes to $300,000 in five years. We've made a quarter of a million dollars. So think of it as an investment. Don't think of it as a way to make money quick it's not a get rich quick scheme cryptocurrency is not to get rich quickly it is an investment, it's a way to earn money over time.
And in case you haven't already heard XRP or ripple is in the middle of a lawsuit with the SEC regarding their coin and having some issues and so as you can see, XRP or ripple has gone down in value a lot because of this SEC filing the lawsuit. So, again, cryptocurrency is very volatile and risky to invest in, so you do want to be careful which coins you invest in because you never know what's going to happen with it. But one thing is for sure. A lot of companies portfolio Hedge Funds investment companies, they are predicting a huge price target. The Motley Fool is adding Bitcoin to its portfolio, their target, $500,000, I mean when you see these price targets of 400 $500,000, and so on. It makes you wonder, Well, why is that why are these price targets so high. There's a reason behind it. The first thing is Bitcoin, you can only make 21 million of them, and there have already been 18 and a half roughly million of them already made from mining machines, computers, basically.
So what this means is that there's a cap, there is a limit as to how many Bitcoin can exist, and they're almost all in existence. The other thing is, over the past decade or so since Bitcoin was invented, people have lost their hard drives, with Bitcoin on them, people have forgotten their passwords to their wallets. And people have sent Bitcoin to the wrong addresses. And the point is, millions of Bitcoin have been lost forever. They're never even, you're not going to be able to ever get them back again. And that's a huge thing because there's not really 18 and a half million in existence is there. There's more like what I think the estimation is around 13 million of them in existence, that's not that many. Imagine if 13 million people in the world each owned one bitcoin, or 26 million people owned half a Bitcoin or 50 plus million owned a quarter of Bitcoin. There are 7 billion people on the planet. So, that's not a lot of Bitcoin, it's very little and that's why it's so valuable because there's only a certain amount of them in existence. Unlike gold and diamonds and all sorts of other precious metals and gems, you can keep buying them or making them. So that's why the value of them has been, you know, historically low compared to Bitcoin, because there's a cap.
Now when Tesla bought the $1.5 billion in Bitcoin. I mean yes that caused a rally in the market, but Elon Musk also said that Tesla will be accepting Bitcoin as payment for cars. And that's really why the prices soared because now people are thinking to themselves, wait a minute, I can actually buy bitcoin, and then buy a car with it. So two things happened. First, let's say you bought Bitcoin a day before the news at $38,000. The next day The news comes out, bitcoins at $45,000, you just earned $7,000 on your Bitcoin, or whatever amount you purchased. Let's say when Tesla begins accepting Bitcoin as a payment, let's just throw a number out there. It's $75,000 per Bitcoin. You have a Bitcoin that you paid $30,000 for. It's worth double that you can spend half a Bitcoin to pay for a Tesla at say 40 grand or whatever it costs and still have half a Bitcoin leftover, you just earned free money basically because you invested before the news, let's say you invested after the news, and you invested it 45,000. Still, let's say bitcoins at 75,000, when Tesla begins accepting the payments. You still have basically a free car, because you can pay for it. Now, here's the other side of the fence right is, let's say that you buy a Tesla for 40 grand worth of Bitcoin, but in 10 years Bitcoin is worth a million bucks apiece. Well now you really paid $400,000 for the car. Remember, a long time ago, a guy paid 10,000 Bitcoin to get a pizza delivered to his house from Papa John's as an experiment, and that pizza today is worth hundreds of millions of dollars so that guy, you know he really pay a lot of money for a pizza basically, I can't even imagine spending that much money on pizza, let alone a car or house or anything, hundreds of millions of dollars for anything is just mind boggling. So, this poor guy Laszlo Han yet back in May 22nd 2010 made history. But that was also a moment of mourning for this poor guy because he spent 400 million or 500 600 700, whatever amounts of hundreds of millions of dollars worth of Bitcoin, because he wanted to try and experiment. But that makes us all wonder where is Bitcoin headed in the next 10 years, people again predict 100,000 to 500,000 to a million dollars. We don't know. So all you can do is invest wisely, do your research, read a lot online, figure out exactly what companies you want to invest in. Don't spend more than you can lose. None of this was financial advice. It's pure opinion. I hope you're careful, I hope you invest, I hope you do a good job of learning more about cryptocurrency and Bitcoin in particular. Happy holding and see you in next week's episode!
925 total views, 2 views today