How I Drastically Improved My Health During the Pandemic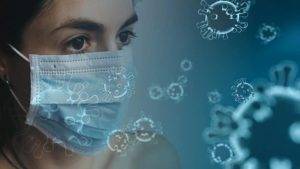 If there's one thing everyone is concerned with during the pandemic, it's their health. I've worked even harder to maintain a healthy lifestyle and stay productive during the coronavirus quarantine. I want to start off by saying a lot of my friends, family and past clients have not been able to stay healthy or productive during these chaotic times. I found myself telling them what I have been doing over and over again, until finally a few of my friends said to just write a blog post. So here I am. That's what I'm doing. 
You might have caught my video on YouTube where I took you on a tour of my kitchen showing you what I ate. I also put up a similar podcast episode. You'll see and hear that I mostly eat vegan. That doesn't mean you have to be vegan. Your diet can be whatever you want as long as you're eating healthy.  With health, your diet is the most important thing. I've noticed a lot of people eating really unhealthy foods during the quarantine. They've been ordering fast food and cooking a lot of junk food at home when it doesn't have to be that way.  
The Catalyst
In 2013, I was around 220 pounds. Now I'm six foot two. So I'm quite tall, but I had a decent amount of belly fat, chubby face and I felt overweight. I was out of breath and tired often. I didn't have a ton of energy and my total cholesterol almost reached 250. Every time I went to the doctor for blood work, they would say that I should be on a statin drug. But I refused. 
Back then, there were a huge amount of food documentaries that were gaining popularity such as Forks Over Knives. They really opened my eyes to the fact that there were people just like me who were suffering from high cholesterol, and health problems. So I figured I would give it a shot and I tried the vegan lifestyle intermittently. Basically, I would try it for a month or two and see how I felt. Amazingly I would lose a lot of weight, go back to the doctor and find that my numbers and weight dropped down dramatically. So I knew that it worked.
The issue was that I found it to be difficult to maintain that lifestyle. Thanksgiving would come around and I would eat a turkey dinner with my family and the barrage of holiday parties that came after that. Inevitably I would start having a weekly cheat meal, eat junk food sometimes, and it was a vicious cycle.  Of course I would gain the weight back that I had lost and my numbers would go back up to where they were. I felt like I was beta testing my body. I was experimenting to try and figure out what worked for me.
I hit rock bottom
After about six years of experimenting, and nothing changing in my health and weight, I realized in November of 2019, that it was time for me to become a strict vegan. I was determined to get my health in order. I wanted to see what would happen if I could be vegan for at least six months. I knew it was going to be quite the challenge, being that I tried it before and failed after a month or two. But I wasn't getting any younger, and I was tired of feeling unhealthy. So on November 21, 2019 I became completely vegan. The following is my journey since then, what my diet consists of, what my health results are now, my weight, and my overall well being.
My Diet
With the help of fellow vegan friends and a ton of research on my part, this is what I changed my diet to almost overnight. I'm going to break it up into breakfast, lunch, and dinner, along with snacks and special meals.
Breakfast. 
Just like Steve Jobs famously wore the same black turtleneck and jeans to work every day to save time from having to figure out what to wear, I eat the same exact breakfast every morning. It takes me roughly 2-5 minutes to make it every morning since it's ready to go. Here's what I have:
Steel cut oats with chia seeds, peanut butter, a banana, ceylon cinnamon, and oat milk.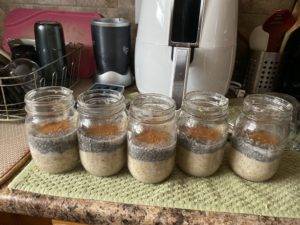 For this nutrition and protein packed breakfast, I make a batch of six small mason jars and put them in the fridge for the week, along with making my own oat milk using rolled oats to reconstitute it every morning. I made a whole video to show you how I make them if you want to watch it here.  
Along with my oatmeal I have one cup of coffee with Blue Diamond Almond Breeze milk and a spoonful of monkfruit sweetener. I like this brand of almond milk because it has no carrageenan or sugar, and it actually tastes a lot like milk.
I scoop the prepared oatmeal out of the mason jar and into a bowl, add oat milk, mash it and stir to reconstitute it. Then I put a heaping spoonful or two of peanut butter into the bowl before placing it in the microwave for about a minute and 45 seconds to warm it back up. Your microwave time and settings may vary, but this is what works for me. While the oatmeal is warming up I mash up the banana and sprinkle the cinnamon on top of the banana puree. Then I mix the banana with the oatmeal and it comes out amazing and so tasty every time.
As for the oats, both steel cut, and rolled, I always buy organic Bob's Red Mill. They are just the best in my opinion. Same goes for the chia seeds. As for the peanut butter, I only use Kirkland brand organic peanut butter made with 100% US Valencia peanuts, with no mold or alflatoxins.
Lunch and Dinner.
Although I have the same exact breakfast every day, I don't have the same lunch or dinner every day. This is where my variety comes into play. Now for me, there is not much of a difference between lunch and dinner. Both meals are where I get most of my nutrition and protein. So for the sake of brevity, I'll just list out the types of foods and ingredients that go into the majority of my meals. 
Brown, red, black lentils

Black, kidney, chili, garbanzo beans

Sweet potatoes and red potatoes

Asparagus

Brussel sprouts

Green beans

Onions and garlic

Broccoli and cauliflower

Peppers of all kinds 

Spring mix and romaine lettuce

Carrots

Black and green olives

Tomatoes

Cucumbers

Avocado
As for grains, I typically eat:
Brown rice

Quinoa

Chickpea or red lentil pasta

Sometimes I'll have 100% wheat pasta
After my workouts I make a smoothie which contains: 
Goji berries

Pumpkin seeds

Flax seeds

Chia seeds

Hemp seeds

Beet powder

Two pitted dates

Strawberries, cranberries, blueberries, raspberries, pineapple, etc.

2 Scoops of Orgain organic vegan protein

50/50 mix of coconut water and regular water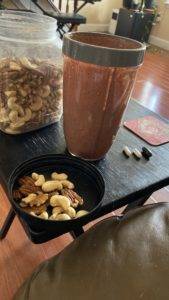 As for fruits I typically eat: 
Oranges

Bananas

Apples

Mango

Kiwi

Watermelon

Pineapple

Pears

Figs and dates

Peaches

Tangerines

Cherries
Any kind of pickled food like pickles and sauerkraut is super good for your gut and full of probiotics.
Snacks:
Hummus w/ carrots or pita crackers

Terra chips

Siete (no corn) chips and wraps

Fresh popped popcorn kernels

Barbara's and Kashi cereals

Ezekiel sprouted grain bread with peanut butter and your choice of spread

Raw organic nuts such as pecans, walnuts, cashews, almonds, pistachios, etc.
There are plenty of other healthy snacks out there. I'm just mentioning some of the main ones I have at home. 
On days that I don't feel like cooking, or I don't have any of the above prepped I eat Amy's organic soups and frozen meals. They are delicious, and nutritious. There are other soups and meals available that you can buy. Just make sure you buy the ones that have the least amount of ingredients and don't have a list of chemicals in the ingredients. I always buy organic when I can.
On the weekend I might eat a Vegan Harvest pizza – they are delicious and taste just like the real thing! I also eat salmon, tuna, sushi, mussels, crab, or other types of seafood maybe one day a week. For some reason seafood doesn't seem to affect my body as badly as most animal proteins. 
But in terms of animal proteins, I haven't had any pork, chicken, turkey, beef, cheese, eggs, animal milk, or any other animal proteins (except the occasional seafood) since I started my diet.
When it comes to the majority of the food I listed, I use either my instant pot, air fryer, or stove / oven. It's really simple to make most food in the instant pot. 
Spices and condiments:
Apple cider vinegar

Red wine vinegar

Balsamic vinegar

Extra-virgin olive oil

Avocado oil

Organic coco aminos

Red hot sauce

Tahini sauce

Nutritional yeast

Himalayan pink sea salt

Crushed black pepper

Paprika

Cumin

Chili powder

Garlic powder

Sesame oil

Soy sauce
And there's plenty more that I'm probably missing. I do have mustard, unsweetened ketchup, barbecue sauce, ginger, Veganaise and stuff like that in my fridge too.
Supplements:
Red yeast rice

Boswellia extract

Bio-Astin Hawaiian astaxanthin

One a day men's

B12 supplement

Vitamin D
Drinks:
Water

Hot tea

Coffee

Occasional fresh squeezed orange juice

Perrier, sparkling or other mineral water (non flavored)
When it comes to mineral or sparkling water if you need flavor you can do what I do and just add a piece of lemon, lime, or a splash of all natural 100% cranberry juice to it. You don't need a lot, just a little to add flavor. This way you're not drinking chemicals, which most flavored water have plenty of.
Cutting out sugar
One of the hardest things I had to do was cut out sugar. Talk about withdrawal. I was tired, had headaches, was cranky, and felt like I was withdrawing from some hard drug. It was rough. But the good news is, once I got past one to two weeks, I started feeling better. I wasn't craving cakes, cookies, brownies, ice cream and all that horrible junk I used to eat.
The thing about sugary foods, is that there are healthy versions of them. You can make vegan brownies, muffins, even ice cream, all vegan and healthy. I put them in the freezer and I might eat one or two a week, but they're made with vegan ingredients. No sugar. I use erythritol.
Now when I eat fruit, they taste so sweet. It's crazy, but now fruit tastes so damn good. So much better than it used to. Because I would reach for a pastry, a donut, brownie, or something sweet and of course I didn't want a piece of fruit. But now I look forward to eating fruit, or figs and dates. Talk about chewy desserts. I've learned to truly love figs and dates. 
And of course, sometimes I'll eat some dark chocolate. I'll buy a bar of Tony's Chocolonely dark chocolate and I'll have one small piece once in a while. I don't eat a whole bar. I don't eat a half of a bar, or even a quarter of a bar, just one small piece.
The key here is to stay away from the junk food, sugary stuff, and eat the healthier alternatives. If it's your birthday, and someone makes you a cake, guess what, you can eat a piece. You're not going to die from that piece. I do eat a piece of cake or dessert here and there. But it's more like once a month, rather than once a week. So in a whole year I might eat twelve desserts. It's called moderation for a reason.
Here are some of the meals I make:
The Results
First off, everyone has been noticing that I look "thin, fit, and really good". I'm down from 200lbs. to about 170lbs. It's a huge difference. All of my body fat is gone. 
I recently had my blood work done, and my cholesterol went all the way down to 190. It was the first time my cholesterol had ever gone under 200 in years. The last time I got it checked it was 236 before I became vegan. That's a 46 point drop!
I also had a decent amount of back and joint pain starting about two years ago and during this process of becoming vegan I noticed that most of the pain just started to kind of go away. I believe that has to do with the supplements I've been taking but mostly my diet. I also had a slight case of psoriasis on the back of my scalp, and that seems to have vanished completely.
I also feel like I have more energy, I sleep great, and I'm more motivated to be productive.
It's crazy to say this, but it seems like becoming vegan has solved most of my health issues in one fell swoop. It goes without saying, during this transitional period, I've kept up with my exercise regimen as well. You can't just diet without exercising too.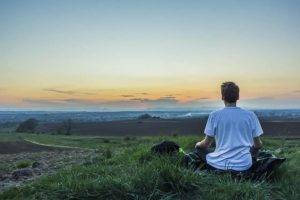 Exercise goes hand in hand with diet
Before the coronavirus, I used to go to the gym three to four days a week. But for the past four months I had to become creative, by using ankle weights, resistance bands. and even making my own barbells out of stuff around the house. I've been using YouTube workouts, P90X and Insanity DVDs, doing yoga, and working out as much as possible. I even pulled out the Simply Fit Board I bought after seeing it on Shark Tank. That thing sat in my garage for years, and now I actually use the damn thing!
The least you should be doing is to go for a walk or a run every day. If you live near a park, take in the fresh air and get outside. I tend to do my workouts early during the day, and take my dog for a walk at the park in the evening. This way I can relax after dinner and recharge before I have to start all over the next day.
I work out on my chest and triceps on Mondays, legs and shoulders on Wednesdays, back and biceps on Fridays. I do ab workouts on each of those days. I also do yoga and meditate periodically as well as stretch every day. I use a standing desk when I work. I also have a basketball net in my back driveway that I use sometimes. I go swimming at my parents swimming pool at least once a week. The key is to stay active.
I even consider my garden work staying active, or watering my plants. I have a lot of plants in my house, and I have two flights of stairs. So that becomes a workout too. From about 8AM until about 8PM I am productive and on my feet the entire time. I think having a routine is the easiest way to get used to a new lifestyle. I've definitely come out of the pandemic a much better person. I'm trying to help you do the same and hope that I did with this article. Good luck. Stay healthy. Stay happy. 
And stay safe.
1,434 total views, 1 views today